Filter by Category
Science & Nature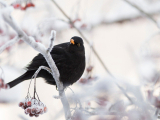 St. Joseph County Parks Birding Trail Hikes
with Michaele Klingerman

May 4, 2021 at 8 am

, runs for 4 weeks
Join a St. Joseph County Parks naturalist to explore the four parks which are featured in the new Indiana Birding Trail. Look and listen for birds during the spring migration season. Each walk will last approximately 2 hours. No FLI tuition. Questions about the walking club can be directed to Michaele Klingerman at 574-654-3155. You must be capable of walking on uneven surfaces for approximately two miles.
St. Patrick's County Park: Brown Barn (May 4)
Spicer Lake Nature Preserve: Nature Center (May 11)
Bendix Woods County Park: Runnels Shelter (May 18)
Beverly D. Crone Restoration Area (May 25)
Fee: $15/person for 4 sessions due at the first class.
Full Course