Filter by Category
Music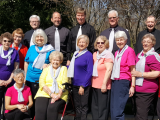 Silvertones
with Maretta Hershberger, M.A.

Mar 3, 2021 at 10 am

, runs for 10 weeks
Silvertones is a glee club for seniors – no auditions! We welcome anyone who wants to sing. Our focus is on performance of music that is both fun and entertaining, as well as serious. We've been on hiatus since COVID came to town, but we're back this spring with a twist - our rehearsals and performances will be online. This group has great camaraderie, so time for socializing will be included in the Zoom rehearsal. Should things open up a bit later in the spring, we may have a few abbreviated rehearsals in a larger space with social distancing and marks.
Will run