Filter by Category
Business and Finance
Basic Economics
with James Halteman, Ph.D.

Mar 1, 2021 at 10 am

, runs for 10 weeks
This class explores the way our economic system produces and allocates resources by using practical examples from the real world. How do markets work and where do they fail? What role might the government play in these processes? How can we maintain trust in each other when markets are so impersonal? Is the gap between the rich and poor expanding and, if so, what should we do about it? Do we benefit from world trade? What moral and ethical principles apply in economic activity? What might the economic world look like in 50 years? No economic background is needed for this course. Participants need only have a curiosity about the many places where economics touches our lives.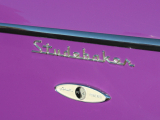 Why Studebaker Failed
with Leighton Schmitt

Mar 3, 2021 at 9:30 am

, runs for 10 weeks
How does a company go from 12,000 employees and its biggest profit ever in 1959, to bust four years later? This course will answer that question blending history and story telling with economics, car design, and finance. Studebaker made great cars, but that wasn't enough for them to stand the test of time. We'll focus on the business decisions Studebaker executives made, and discuss the external forces that ultimately led to the end of the line for South Bend's largest company. It's a story of brilliance, idiocy, dividends, suicide, big gambles, and huge losses. I hope you'll join us to find out.
Legal Opportunities and Issues for Those 60 and Better
with Douglas Germann, Sr., JD

Mar 3, 2021 at 12 pm

, runs for 6 weeks
COVID brings us a shiver: our loved ones could be here today, gone next week. Is their Will and POA up to date? Is ours? This course is directed by you: What are you facing? Your questions are our course outline. You might ask about:
The crisis of paying for long-term care and nursing homes
Guardians and POAs
Alzheimer's and dementia
The long-term care labyrinth
Medicaid
Wills
Trusts
How to choose the right nursing home or assisted living
End of Life conversations and choices What help is there in our community?
Living Wills, DNR, POST, and other advance directives
How to be an Executor
How to be a POA
Special note: For the first class, we will be showing an excerpt from a film called Consider the Conversation, about how we are treated by our medical system and our culture as we approach death, and what is the best way to get the amount and kind of care we want.
Will run